Great Win Fire & Safety L.L.C
Great Win Fire & Safety L.L.C is a leading fire fighting company in UAE to ensure quality fire safety and protection services to the customers. We are authorized to install and certify all types of Fire Protection Systems. Our services starting from design, selection, supply, installation, testing, commissioning and annual maintenance contracts (AMC) of Fire Fighting Systems, Fire Alarm Systems, Fire Detection Systems, Fire Pumps, High and Low Expansion Foam Systems, Deluge Systems, Fire Water Sprinkler System, FM200 Systems, Kitchen Hood Fire Sprinkler System Etc.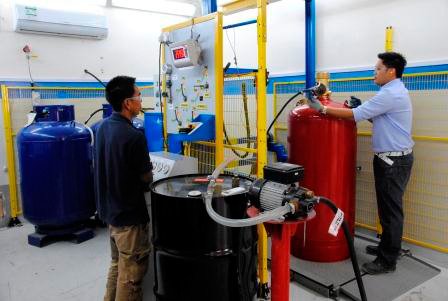 REFILLING SERVICES
GREAT WIN FIRE & SAFETY LLC has bulk FM-200 (HFC227ea), NOVEC 1230, NAF S125, IG-55, IG-541 & WET CHEMICAL in stock at all times; to recharge your system cylinders in the event of a discharge. In most cases, cylinders can be recharged, leak tested and returned to your facility same day. We offer pickup and drop-off of your empty cylinders and are available 24 hours a day for refill and recharges.
Fire Suppression System Cylinders (Gas/Liquid Details):
1. FM200 (HFC227ea)
2. NOVEC 1230 (FK5112)
3. NAF S125 (HFC125)
4. IG-55, IG-541, IG-100
5. WET CHEMICAL FIRE SUPPRESSION CYLINDERS